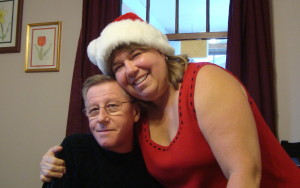 There are those who are facing difficult circumstances this holiday season. It's not easy being surrounded by cheery music, glittering decorations, party-makers and celebration planners when you feel your world is falling apart. It all looks so joyful and we can't help but feel isolated by the merriment that we're not feeling ourselves. The whole world seems to be a part of some great coming event that we just don't look forward to.
Six years ago today, just before Christmas, my husband Tom passed away and he was gone forever. That first Christmas I was numb. I hadn't truly accepted the fact that Tom was no longer with me. I had bought gifts and stocking stuffers for him and he had bought gifts for others that were still arriving by parcel post and courier. I chose gifts for his family, wrapped them, and wrote personal notes on Tom's behalf as if he had given them himself. The Christmas card I had bought for him said it all: "Life gives beautiful gifts. It gave me you. Merry Christmas (our last one)." In truth, the Christmas the year before had been our last one, but I wasn't ready to accept that reality. Family helped me wade through the grief of that first Christmas with love and understanding as we celebrated together.
The next Christmas was actually harder to go through without him for he was no part of the preparations. For the first time since I had been with him, I wasn't choosing a gift for him, I had no need to fill his stocking or buy a special Christmas card. Any gifts I bought for others were from me, not us. What I did do is light a memorial candle in his memory. It sat beside his framed photo on the mantel of the fireplace. With the help of family, I made it through that holiday season.
I continued to light a memorial candle each Christmas. He was still with us. Family celebrations continued to be a part of all my Christmases and stories and memories of Tom were always encouraged from family and friends. His memory lived on. Christmases got better.
This Christmas will be the seventh one without Tom as a living presence. But he continues to be with us in our hearts and minds. Special decorations, food, drink, so many things still bring back memories of our lives together. We still share the stories and our fond memories of him. For us, he lives on, just in a new way.
The black grief of that first Christmas is gone but I continue to feel melancholy at times. How could I not? We had a great love. I will always love him. But life moves forward. There have been weddings and new births and grandchildren growing. Reaching out to others has helped. I have cried with those who miss their loved ones as they pass on and I have laughed with delight holding a newborn baby in my arms. We share our lives; the joy, the grief, the celebrations and the losses. I continue to live in hope and faith for all that life offers me.
I made it through that dark valley. I wasn't afraid to feel the shock and the grief. I accepted all the dark feelings and let them run their course as the tears flowed and turmoil reigned. I reached out to family and friends for support, encouragement and even distraction. They helped me laugh again. I stayed an active participant in life by continuing to work, joining clubs and making new friends. I am stronger for having gone through it all, and can now reach out to others to help them through their difficult times. Together we can make it.
Stay hopeful. Stay strong. Better times are ahead. Believe that Christmas will once again be joyful for you. I wish you a Merry Christmas. Even if it doesn't feel like it. It will.