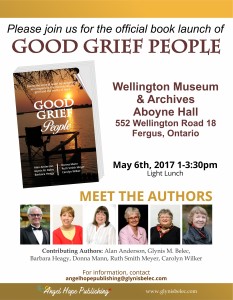 COME HELP US CELEBRATE!
We invite all of you, family, friends, public, to come 'Meet the Authors' and join us for our GOOD GRIEF PEOPLE book launch on May 6th.
We have the lovely Aboyne Hall rented in the beautiful historical Wellington County Museum and Archives between Elora and Fergus, Ontario. Our plan is to have a short program of welcome and then lots of opportunity to meet all six authors and have your book signed if you would like.
We are very excited that our only male author, Alan Anderson, is travelling with his lovely wife, Terry, all the way from British Columbia to join us. (And it's their 39th anniversary, too!)
And come hungry. We will have a luncheon and a door prize, too.
Can't wait. So excited. Looking forward to seeing all of you.
Mark your calendar and bring a friend. We would LOVE to have you join us and help celebrate the official release of GOOD GRIEF PEOPLE.
Consider yourself officially invited!