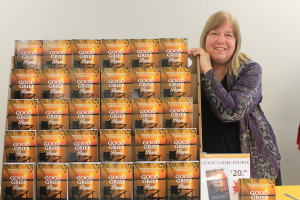 We had a very successful book launch. Thank you to all who came out. Here is my speech:
The first thing I want to say is how honoured I have been to be a part of this very special book, Good Grief People. I knew none of these authors, except for a slight acquaintance with Donna Mann, until we began working on the manuscript last year. Glynis M. Belec, Carolyn Wilker, Ruth Smith Meyer, Donna Mann, and Alan Anderson, I now count you as best friends, my BFF's, and I admire and respect you all so much. My friends have taught me much about death, dying, and the grief process.
I've done a lot of thinking about what 'good grief' is. And now that I see the book in its final form with all our stories and poems, I think I would have this to say about good grief.
Good grief is about bravery, sensitivity, acceptance, and a generous, fearless attitude to life.
Grief is much like falling in love – to do it well, we have to drop the barriers holding us back from fully stepping forward into it. Yes, it's a powerful emotion, as powerful as love. But that's what grief is – love. When we have loved deeply, we grieve deeply.
Good grief means facing the fear, the anger, and processing it in good faith. It's about examining one's life and finding new purpose and a new identity. It's about a willingness to live and find a new you.
Like a woman in labour, who works with her body and mind to embrace the pain, to release it instead of fighting it and bottling it up, when I grieve well, I learn to 'go with the flow'. These stories have taught me that I can birth myself into a new identity. It will be a world without you, a different world, but I will still be in it and will find my new life.
Grief is like a wounded athlete who learns to work through an injury, strengthening the other muscles and joints to heal an injury to regain our health and wholeness once again. Grief can be like an amputation, and when you think about it, losing someone dear to you is like losing a part of yourself. But even through that, we can learn to do things in a new way and go on.
Good grief is the fork in the road, and although we may hesitate, we choose to take it in good faith. It's the willingness to continue the journey, a journey into the unknown.
Good grief is the willingness to accept the end of one story and move on to the next chapter or book. We all have our favourite books and stories that we just hate to see end. We stretch out the best parts, savour it, read it again slowly, or even stop reading because we can't bear for it to be over. But it does come to an end. And then we move on to the next story, but not until we have placed that story in our 'favourite books' shelf for safe-keeping and re-reading. We know that we can return to it again and again, but we know too that it will never be the same as that first time experience.
I hope that our book, these stories, will help you find hope in the midst of despair, comfort from the pain, joy in the sadness, strength out of the weakness and acceptance in the midst of denial. They all sit on the same plate. We can learn to live with both.