I opened my eyes, adjusting to the morning light streaming through the crack in the curtains. Byron, my daughter's dog, had decided to sleep with me last night and once he realized I was awake, he covered my face with kisses in anticipation of a morning walk. He waited patiently while I dressed and we quietly stepped outside onto the back lawn with its cloak of morning dew. Spring flowers were bursting, birds were singing.
Back inside, I started the morning coffee, turned on the computer, and then stuck my head in to see if my daughter and grandson were awake. There they were, in the middle of a morning feed, throwing smiles and kisses my way. Within a few minutes, my daughter brought my little grandson, just nine weeks old, out for morning cuddles while she slept a little longer.
He watched me as I finished my morning writing and emails, those bright Wedgewood Blue eyes not missing a beat. As our gaze caught, his big smile filled my heart.
Maegan woke up and after another bit of visiting, she left for a good long run with the dog along the river trails. My little guy and I had more cuddle and smile time. Holding a little baby in your arms is a precious thing.
When she and the dog returned, a bountiful breakfast and good conversation made for an easy-paced morning. Before I knew it, they had to go to head off for an appointment later in the day.
As I waved goodbye, I said a quiet prayer of gratitude for the love of my daughter, her little guy, and her beloved pet.
I got some computer work finished, notices, letters of thanks, and future appointments and retreated out to the back patio with my book and a warm cup of tea for the rest of the afternoon. The sky was blissfully blue, the birds were still singing, butterflies were dancing and a gentle breeze kept me cool in the warming sun.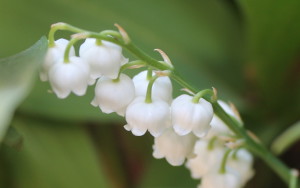 Ah . . . this day couldn't be better. Simple pleasures of shared family love, good food, good conversation, sunshine, spring flowers, butterflies and birds are all I need in my life. At least for this day. This perfect gem of a day.