This week a group of friends, all working and/or retired teachers, celebrated our Christmas pot luck dinner. I drove almost two hours one way to see them, as I do every month, but I love this group of friends and am willing to do it. We always go to Anne and Bobby's log cabin home set back off a country road, surrounded by forest and fields. Years ago, they built this beautiful log home mostly by themselves; they dug their own well and set themselves up to be as self-sufficient as possible. They have a deep sense of stewardship for the earth and live as simply as possible. Their home is cozy and warm and I always feel welcome.
The group, as a whole, is creative and fun. We always go for a hike before dinner, enjoy our meal and then often play board games or share photos and conversations of recent trips or events. This month we had a celebrative Christmas party.
I arrived a little late and found Bobby putting the finishing touches on a Christmas tree set up in the corner. I complimented him on his choice, assuming that he had cut down one of the many trees on his property. He invited me to come take a closer look. I was amazed! He had found a dead maple tree trunk, put it in a pot and using fresh spruce boughs and a drill and ingenuity, inserted the live boughs to create a truly beautiful little Christmas tree.
"Would you call this a fake live tree or a live fake tree?" he laughed.
We always pick a theme for our dinner. This month, because it was Christmas, we all made 'ginger' dishes. There was carrot ginger soup, cheese and ginger mini sandwiches, ginger flavoured cheese, a stirfry with ginger sauce and rice, ginger and cabbage salad, ginger molasses cookies, chocolate covered candied ginger, and a lemon grass/ginger bubbling beverage.
After dinner we constructed a gingerbread house that turned into a gingerbread stable when one of the walls collapsed. We had lots of laughter and fun as each of us contributed to the Christmas creche we spontaneously created with two gingerbread figures for Mary and Joseph. A bright candy wrapper became a swaddling blanket for the baby Jesus, a tiny toy figurine Anne found that looked more like a tiny alien than a baby, and we stuck him into a gingerbread molasses cookie cradle. A plastic toy giraffe became the 'donkey' that carried Mary and Joseph to Bethlehem. Lyn, with a huge amount of patience, finished off the final touches to the gingerbread stable with candies and chocolate.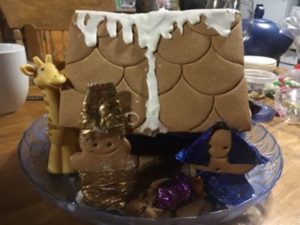 We exchanged gifts and cards: Moraine had a friendship bracelet for each of us, brought back from her recent trip to Guatemala; Lyn had hand-made soaps and toothpaste she had made at a local workshop; I handed out my own photo Christmas cards and Anne and Bobby gave us each a copy of their annual "Egbert Courier" newsletter.
Kathy brought a Christmas trivia game and we had fun asking each other questions and trying to come up with the correct answers as a group. Many of the questions had to do with Christmas carols and each time one came up, we would stop the game and sing a Christmas song together with Anne playing piano and Bobby his violin.
At the end of the night, we dimmed the lights, and with musical accompaniment and two part harmony, we sang "Silent Night" in unison. With lots of hugs and kisses, we said our goodbyes and wished each other a Merry Christmas.
For me, this was a memorable evening that I will treasure for years to come. It was the simple things that counted the most: good friendships, a tasty meal, music, hand-made gifts, and lots of laughter and spontaneity.
Merry Christmas to all. I pray that you too will have a memory-filled, happy holiday season.