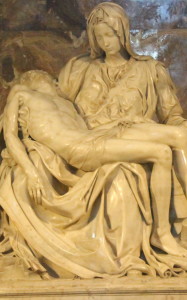 Recently I watched an online interview of Pema Chodron, a Tibetan Buddhist nun. She spoke of pain, suffering, discontent and suggested a means of gentle meditation called "Compassionate Abiding" in dealing with it.
Sit quietly and just breathe. Breathe in and embrace the pain, take it in, open the heart and allow it to fully experience the pain. Do it again and again, fully breathing it in and fully breathing it out. And, as you breathe, know that all of us, everyone, experiences this pain and discontent at some point in our lives. So begin to take that realization in, not only for yourself but for others, too. Take in their pain, feel the community of pain, our oneness, our common humanity. This is "compassionate abiding."
It's what Christ did on the cross. Christ took in all our pain, for all of us. He embraced it all. Not only for those living in his time but for all humanity in all times.
This is the first time I have ever really understood the value and true meaning of what Christ did on the cross, the event we call Good Friday. It finally, truly spoke to my heart. It wasn't so much our sin that Christ took on himself. It was our pain, our discontent, those negative feelings and perceptions we all have in our lives. For I believe that we are all basically good, we are perfect as we are. Pain and suffering is something that is manifested when we step away from our true selves – the self we were born as and were meant to be. Christ took all that pain and embraced not only his own, but ours, too. He identified with us. He felt a deep compassion for us. He wasn't afraid of it, not only his own pain but all of ours.
Pema Chodron suggests we all are capable of doing this. We all experience pain, suffering and discontent in our lives. By dealing calmly with the pain, accepting it and embracing it, rather than fighting it and living in fear, we can move that level of understanding to our own communities outside ourselves. Yes, the pain is real, it is there. But we can sit quietly with it, accept it, and go beyond ourselves and realize that we all will experience this at some level. We're in this together. Time will pass and the pain may stop for us, but there will be others who may need our compassion and understanding in dealing with their pain. Because we have suffered we can identify with others' suffering. This is empathy, kind-heartedness, love, compassionate abiding.