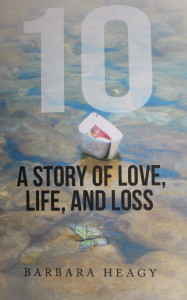 At a recent writer's retreat I attended, I was sharing my published books with another new writer friend. An author has to be able to say what his or her book is about in under 30 seconds, one or two sentences at the most. My keynote for my first book is "10 – A Story of Love, Life, and Loss, is an inspiring cancer story. It may uplift and encourage you to live your best life." I often say "It's an inspiring memoir/cancer journey/love story."
Then, my friend asked me a simple question, one I had never been asked before so succinctly.
"So, how do you continue to live a quality life when you've been given a terminal diagnosis with no hope of a cure?"
Her succinct question demanded a succinct answer. She wanted to know in a few sentences how my husband and I did it.
I answered her this way, in list form: change your focus to 'living' rather than 'dying,' live in the moment, live with gratitude, and focus on your abilities, not your losses.
Focus on 'living' every day, rather than 'dying.' You try to fill your day with as many life-fulfilling activities and people as you can, and you focus on those positive messages and feelings, rather than negative people, circumstances and thoughts.
Live in the moment, with mindfulness, tapping into all your senses. Taste that juicy apple, smell that scented rose, look up at the sky and the clouds floating by, feel the softness of your child's cheek, listen to the sounds of nature all around you. Often, the simplest things are the most meaningful.
Live with gratitude. Say thank you. When you awake, be grateful for another day given, and when you go to sleep, say thank you for all you received.
Focus on what you can do, rather than what you can't do. In spite of impending losses, you still are capable of many things. Use your time to enjoy doing those things you can still do.
"10 – A Story of Love, Life, and Loss' is a story of struggle, pain and loss, but at the heart of it, it is a story of love, hope, and strength. It is a story that may help others who have been given a life-debilitating diagnosis, as well as helping their caretakers and loved ones who journey with them.
My book can be purchased at The Bookshelf, Guelph; BookLore, Orangeville; Hannelore Headely Old & Fine Books, St. Catharines and Tamara's Esthetics & Reflexology, Guelph. It can also be purchased directly from me by messaging me. Buy it online at amazon.ca.