I was thinking about my recent trip to Hawaii where I went to dance at a week- long event called One Dance Tribe. After spending almost a year co-authoring a book about grief, I was looking for some pure joy in my life. And I did find it.
The first day, the first dance session, I was invited to dance with a complete stranger, and as we circled, and swooped and jumped around each other, I found myself smiling and then laughing out loud. Pure play. I felt the freedom of a young barn-bound colt let out to romp in the grassy meadow on the first warm, sunny spring day.
I also experienced pain, my own as well as others. On the dance floor, we were invited to consider the pain in the world, our own as well as others, and express it in movement, gesture and dance. No words. I cried in the arms of a stranger, as tears spilled down my cheeks over the death of my brother-in-law, who I had just found out the night before, via text, that the cancer he had been fighting for years, won. I wasn't going to be there for his funeral.
Several times, after dinner, or at a quiet moment, someone would approach me and sit across from me and slowly start telling me about their lives, often being moved to tears. I just listened. It was an international dance event and, early in the week-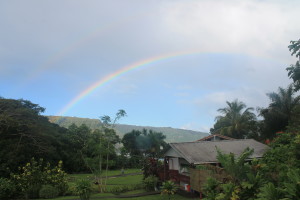 long event, most of these people were strangers to me. I felt honoured that they would share their lives so intimately with me.
Every day, it rained for some time, usually just a quick blast of warm drops and it was over. But the sun was always back. And with it, came some of the most beautiful, vividly-colored rainbows that I had ever seen. And there was usually more than one throughout the day. As one of the participants said, "Hawaii is a rainbow machine."
So yes, I did find joy. But I also found pain. I found they exist on the same plate. It rained almost every day, and every day we had an abundance of rainbows. Rain and rainbows danced in the sky, side-by-side.